Please read through the services below to learn what Town & Country Animal Clinic has to offer you and your closest companion(s).
DIAGNOSTIC LABORATORY
At Town & Country Animal Clinic, we are equipped with a complete state-of-the-art diagnostic laboratory. We implement blood testing prior to all surgeries and annually on geriatric patients for the evaluation of complicated or unusual illnesses.
By performing basic blood tests, we can gather information concerning the health and well- being of your pet. Diagnostic blood work allows us to make accurate diagnoses and create the best treatment plan for your furry friend.
In the event of a case which requires specialized testing, our team at Town & Country works closely with several outside laboratories. We utilize those resources when necessary to ensure the most innovative and accurate tests are being performed on an individualized basis for your companion.
SURGICAL SERVICES
Town & Country Animal Clinic is well equipped to perform all routine surgeries for your pet (spays, neuters, declaws, etc.) as well as more complex type surgeries (foreign body removal, mass removal, pyometra, etc.) To ensure your pet has a safe experience, we perform pre- anesthetic blood tests, administer pre-operative medications to minimize anxiety, and insert an IV catheter which will administer fluid therapy before, during, and after surgery. During the procedure, we electronically monitor and a technician documents your friend's heart rate, pulse and blood oxygen levels at timed intervals. We also utilize the bair hugger to help stabilize your pet's temperature and the procedure is performed with a surgical laser (see surgical laser description), which helps minimize pain, swelling, and bleeding. After the procedure is complete your companion is given postoperative pain medication and a laser therapy treatment for the relief of post-operative discomfort. Your friend is placed in an incubator for recovery and monitored every 10 minutes by a designated person assigned (DPA) until fully awake.
In case of orthopedic surgery needs, we have working relationships with orthopedic surgeons and are more than happy to provide referrals when necessary.
SURGICAL LASER
At Town & Country Animal Clinic all of our surgical procedures are performed with a surgical laser. The surgical laser has several benefits in comparison to the traditional use of a scalpel during surgery. Those benefits include: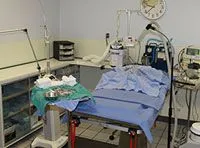 • Less Pain: The CO2 laser beam seals nerve endings and lymphatic's resulting in less edema swelling and pain. The patient has a more comfortable post- operative experience. • Less Bleeding: As it cuts, the laser cauterizes small blood vessels. This drastic reduction in bleeding enables a number of new surgical procedures that are not practical with a conventional scalpel. • Reduced Risk of Infection: As it cuts, the laser cauterizes small blood vessels. This drastic reduction in bleeding enables a number of new surgical procedures that are not practical with a conventional scalpel. • Quicker Recovery Time: Laser surgery reduces the risk of infection, less bleeding, less pain, and less swelling. These benefits make for a more comfortable and speedier recovery after surgery for your companion.
COMPANION THERAPY LASER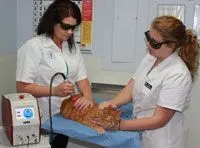 The veterinarians and staff at Town & Country want to make sure your companion is as comfortable and pain free as possible, no matter what troubles they may have. We employ the use of the companion therapy laser as part of our pain management protocol. We use laser therapy for an array of applications, including: • Pain Management • Treatment for arthritis pain • Therapy for wound & laceration healing • Post-surgical therapy to help reduce swelling and promote healing • Treatment for ear infections • Treatment of hip dysplasia • Skin conditions • Inflammation of varieties
We are excited and proud to share this excellent treatment tool that is entirely safe for your pet. Using different wavelengths and frequencies of deep penetrating light, individual cells are stimulated to revitalize and reactivate its own healing process through a biochemical cascade of events. Most pain pathways are due to inflammation and swelling in the painful area, using this natural method to control that inflammation and start the healing process means relief for your pet!
We will be happy to answer your questions regarding laser therapy and its amazing benefits to your pet.
MED/RX VIDEOSCOPE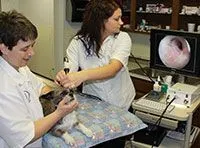 At Town & Country, we strive to stay up-to-date on the most modern technologies in the veterinary field, so we can offer you and your pet(s) the newest and most precise care. We are proud to be able to offer you the MedRx Videoscope. The MedRx Videoscope has set the clinical standard for precise otoscopic imagery and archiving. Its patented lens/probe design and auto focusing feature presents ultra-clear and crisp images. Photographs can be annotated with notes and observations to individualize each visit for your pet. We utilize the MedRx Videoscope during otoscopic procedures to enhance ear visualization, archive images for comparison over entirety of treatment period, and to print photos for you (the client) to be able to visually access the progress made during treatment.
We also utilize the videoscope in any case where imagery will be of benefit to the doctor and the patient (growth/changes of a mass, wound healing process, etc.). This permits us to keep good imagery records on the variations of the condition in addition to our written documentation. The MedRx Videoscope is just one more instrument we use to give your companion(s) the best of care.
We will happily answer any questions you may have regarding this service.
PET DENTISTRY
At Town & Country we take dental disease very serious as it is one of the most common conditions in pets, affecting a huge percentage of cats and dogs by the time they are three years of age. One of the leading reasons this condition is so serious is that it contributes to other health problems, including but not limited to, heart disease, liver disease, and kidney disease. The toxins in tarter can find their way into the blood stream and wreak havoc on the body. For this reason, we provide complete, professional dental services in an effort to offset the negative effects. Our dental services include:
• Routine dental exams • Educational brochures on dental disease & prevention • Dispensing toothbrushes & toothpaste w/ correct brushing technique tutorials • Anesthetized dental cleanings w/ extractions as needed • Prophylactic antibiotics as deemed necessary by the doctor
Because your companion(s) are important to us, just as they are you, our dental procedures are performed using the same inhalation anesthetic and close monitoring techniques that we use for our surgical patients (see surgical services). We have an ultrasonic hand scaler that removes the tarter and we also hand scale the teeth under the gum line where tarter often accumulates (sub gingival root planning). The teeth are then polished to reduce the recurrence of tarter build up. We always recommend you take at home dental care supplies after a dental cleaning so your pet will keep a bright new smile.
Teeth extractions are performed during dental cleanings on an as needed basis for each individual pet.
Prophylactic antibiotics are prescribed also on an as needed basis for each individual pet as deemed necessary by the treating doctor.
RADIOLOGY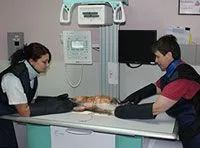 Radiology is an important tool in diagnosing both orthopedic and soft tissue conditions. At Town & Country we offer digital radiology (x-rays that are captured digitally rather than on film). This technique allows us to provide you with a quicker diagnosis for your pet. X-rays provide valuable information about a pet's bones, gastrointestinal tract (stomach, intestines, color, respiratory tract (lungs), heart and genitourinary (bladder, prostate). We use radiology alone or in conjunction with other diagnostic tools such as ultrasound. Radiography is generally performed while your pet is awake, but in some situations sedation is helpful in reducing discomfort, anxiety, and allows for accurate positioning during the procedure.
The veterinarian will determine which pet(s) need sedation on an individualized basis at the time radiographs are being performed.
PHARMACY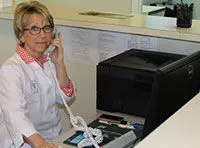 For your convenience and the assurance of your pet's health, Town & Country Animal Clinic maintains a wide array of medications in our pharmacy. We stock a variety of heartworm preventative and flea control medications. Also, we keep in inventory everything from antibiotics, steroids, eye ointments, and ear drops, etc. We strive to have the medications you need, when you need them. If we do not stock your pets medication, we have working relationships with several drug companies that we make special orders through.
For those of you who have picky pets that don't like "normal" medications, we also work closely with a compounding pharmacy. They have "special" flavoring that can make medications more palatable for those who need a little persuading. This allows us to extend a larger variety of options to you for your pet.
If you have any questions regarding medications please ask one of our team members and they will gladly answer them for you.
ULTRASOUND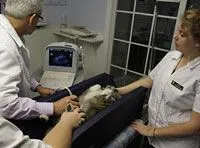 Town & Country Animal Clinic puts forth every effort to use all available resources, including ultrasound, to ensure we give your pet the utmost care. In many instances we use ultrasound in conjunction with radiographs to get the best diagnosis for your pet. Ultrasound is often used in examinations of abdominal organs, cardiac evaluations and pregnancy evaluations. During an ultrasound examination, high frequency sound waves are used to produce a real time moving image of your pets' internal organs without being invasive. All ultrasound examinations are performed by our veterinarians, along with an internal medicine specialist consult.
MICROCHIPPING FOR PETS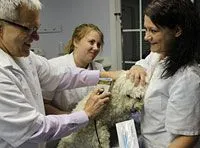 At Town & Country Animal Clinic, we believe that microchipping is very important. In the event of a separation from your pet, a registered microchip is an essential tool to help get the two of you reunited. We offer the HomeAgain microchip system. The microchip is about the size of a grain of rice and is injected beneath the surface of your pets' skin between the shoulders. The process is similar to the pet receiving a vaccination. After the insertion of the HomeAgain microchip, you will be required to register the chip with your information. The HomeAgain microchip is a permanent pet identification device.
To learn more about this product and how it works visit HomeAgain.com
NUTRITIONAL COUNSELING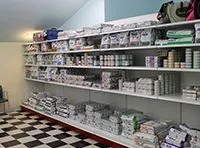 As most people already know, feeding your pet a healthy and nutritional diet, for the life stage they are in, is vital for their well-being and contributes to providing him/her a long and healthy life. During your pet's visit at Town & Country Animal Clinic we will always inquire about your pets' diet regimen. This enables us to review your pets' dietary needs, whether medical or routine, and make special recommendations (if needed) to keep your pet healthy.
PET BOARDING
Does your pet need a home away from home during your next getaway? You can trust the staff at Town & Country Animal Clinic to care for your "fur baby" as if he/she were our own. Our boarding facility will provide your pet with the comfort and safety feeling of being at home, while our staff will give them all the love and affection they can handle!!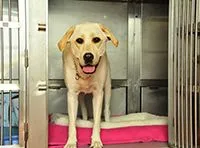 You are welcome to bring your pet's favorite bedding, toys, and food, but we are equipped to provide these items for them. If your pet is on medication, we do ask that you bring it with you at the time of drop off. This will allow us to ensure your pet receives the medication as directed by the prescribing veterinarian. If your pet has any special needs that a traditional boarding facility may be unable to provide, rest assured that our highly trained staff and always-nearby veterinarians are prepared to meet your pet's daily needs.
We do have vaccination and other medical requirements, as well as some policies, which must be met in order for your companion to board with us at Town & Country Animal Clinic. Please see our boarding form for a more detailed description of those requirements and policies.
As always, if you have any questions or want to make a boarding reservation, please call us, and a member of our team will happily assist you.
PREVENTATIVE PET CARE
Town & Country Animal Clinic staff is strong advocates of preventative health care. We firmly believe that prevention is the most efficient and cost effective means of handling future health concerns. As a result of this we recommend a variety of preventative efforts for pets, including: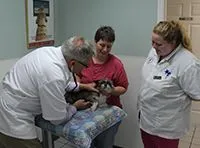 • Annual wellness exams • Flea & Tick preventative year round • Heartworm & Intestinal parasite preventative year round • Heartworm & Intestinal parasite testing annually • Vaccines that are appropriate for the life stage & lifestyle of the pet • Annual Lab work & urine tests for senior pets (over 7 yrs.)
Annual wellness examinations are extremely important for your adult pet. Our pets age significantly faster than us, so it is important for any health problems to be identified as early as possible. Bringing your pet to the vet for an annual wellness examination ensures that any potential health problems are identified early enough to receive treatment. It is important for ALL pets to receive annual wellness exams, but this is especially true for senior pets (any pet over the age of 7 years), as they are prone to have more health issues than younger pets. Preventing problems is the first step toward a long, healthy life for your best friend.